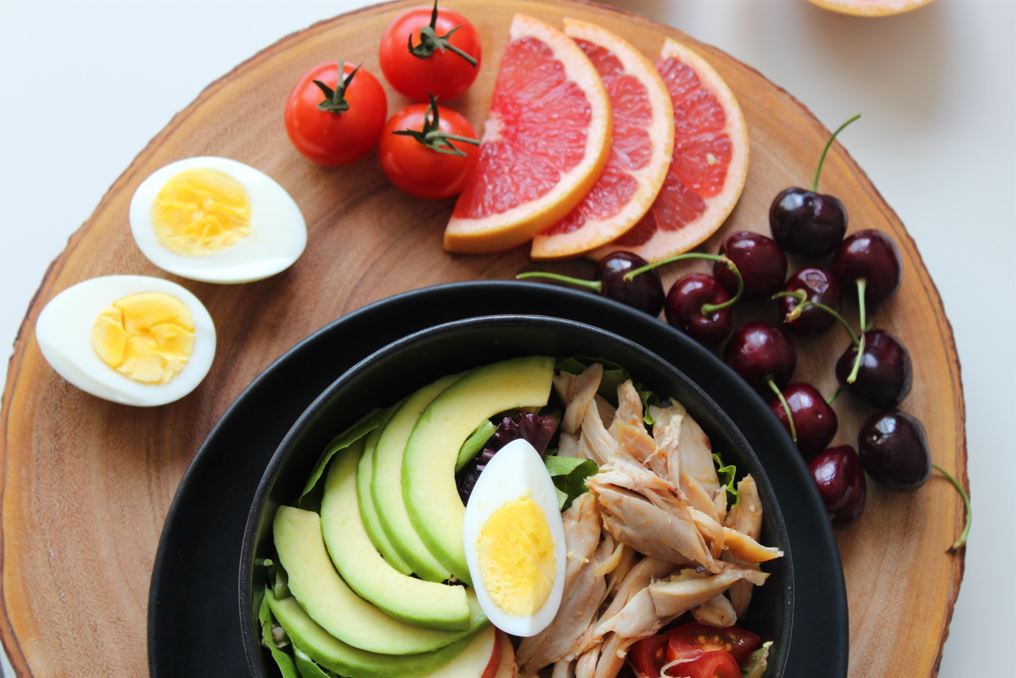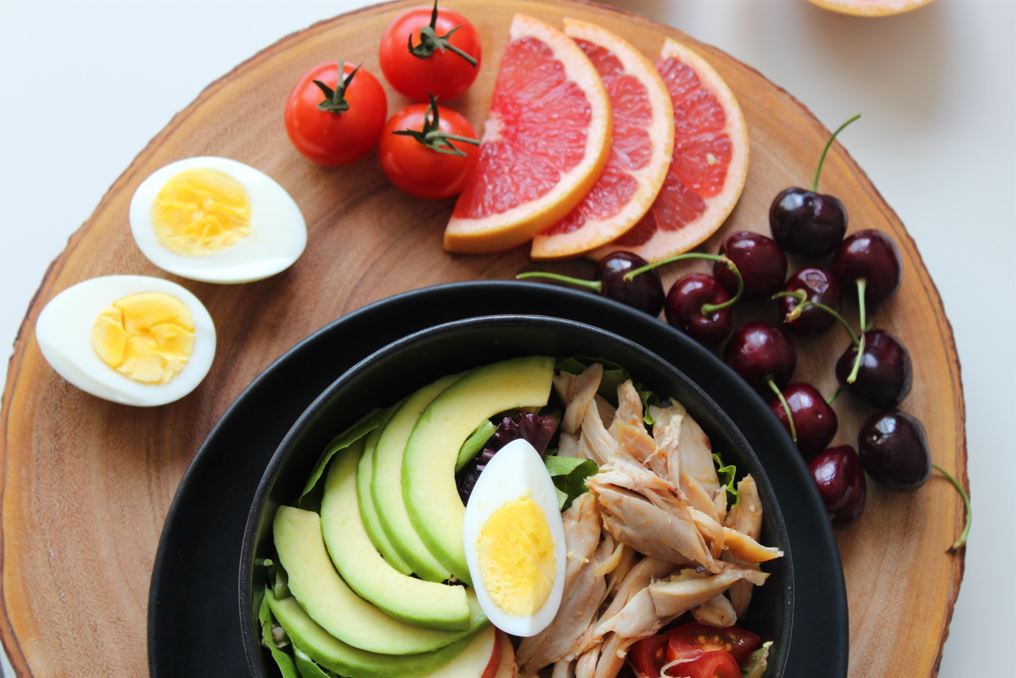 Meal planning, especially for kids, has always been a priority for me because it fuels their bodies and minds to develop into the best they can be. Figuring out what to prepare for breakfast, pack for lunch or make for dinner has always been challenging but planning in advance has made this task a breeze.
A balanced meal or snack should have:
A carbohydrate, protein, fruit and/or vegetables.
At least 5 servings of fruit and vegetables a day, the more colorful the better.
About 6 servings of carbohydrates like bread, cereal and starchy vegetables (corn, potatoes and butternut)
Two to three servings of low fat dairy items like milk, yoghurt and cheese.
Two to three servings of lean chicken, fish and meat.
Fats and oils in moderation.
Enough water.
Don't forget the treats.
Keep kids meals and snacks interesting by changing up the way you serve them. Using spiral slicers for vegetables or making fruit skewers or better yet, get them to help. I find they're eager to try the food that they helped create themselves. Change up the shapes of sandwiches with snackwiches or jaffels. Alternate between different carbohydrates like breads, wraps, muffins and crackers. Introducing exciting cups or bottles might encourage them to drink more water. You can even infuse their water with fruit they love (check out these infuser bottles).
Breakfast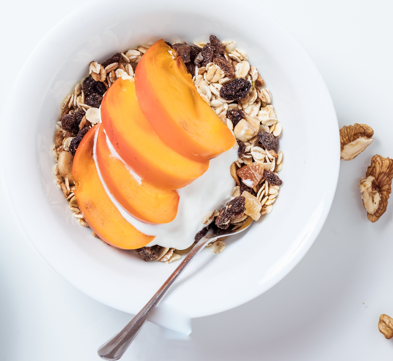 Carbohydrates: Cereal, Muffin, Toast
Protein: Low fat milk for cereal, Boiled/fried/poached egg for toast, Yoghurt for smoothie.
Fruit & Vegetables: Apple, Banana, Grapes, Kiwi, Mandarin, Orange, Mango, Papaya, Watermelon, Melon, Nectarine, Pear, Strawberries, Cucumber, Bell peppers, Celery, Mushrooms, Cherry tomatoes, Fruit juice.
Lunch
Carbohydrates: Pasta salad, wrap, whole wheat or seeded bread for sandwiches (toasted or fresh), tacos.
Protein: Chicken or beef strips for wraps, chicken, beef or ham with pasta salad, ham and cheese for sandwiches.
Fruit & Vegetables: Cherry tomatoes, lettuce, cucumber, carrots, cabbage, mushrooms or asparagus for wraps or tacos.
Dinner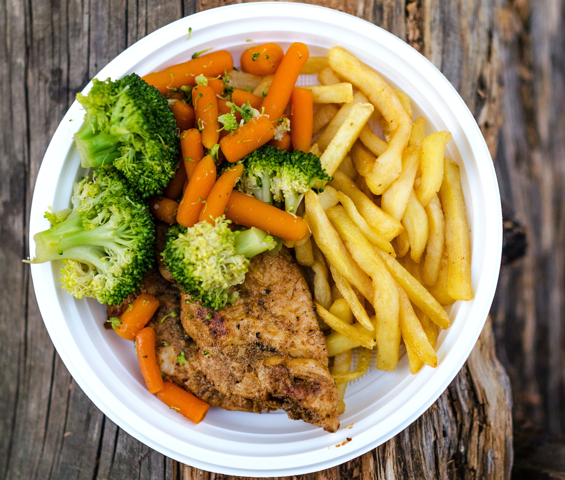 Carbohydrates: Brown basmati rice, potato or sweet potato (baked or wedges), whole wheat pasta, butternut, corn, whole wheat bread.
Protein: Meat balls, tuna or salmon, pork, bolognaise sauce with ground beef & cheese, lentils, fish cakes, chicken or beef strips.
Vegetables: Creamed spinach, broccoli with cheese sauce, gem squash, sweet peas, mixed vegetables, coleslaw, carrot salad, garden salad, lettuce & tomato for burgers.
Snacks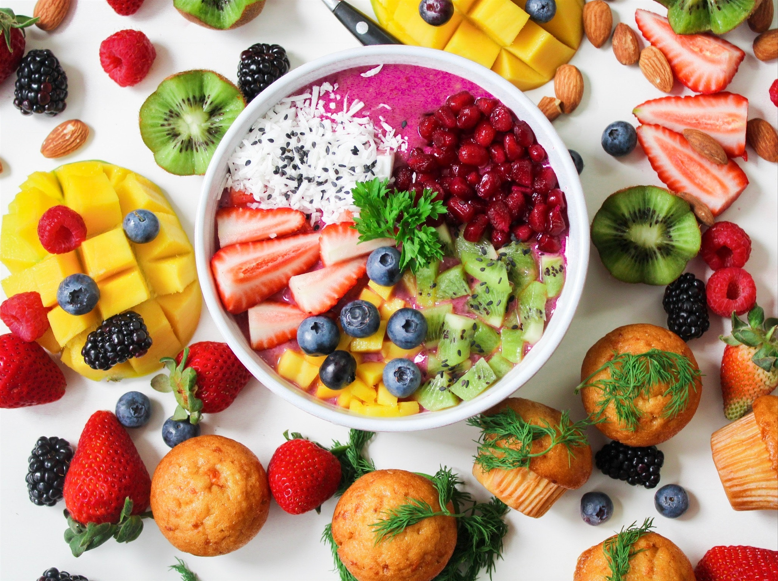 Carbohydrates: Whole wheat crackers, sandwiches cereal bars, muffin corn bread, health rusks, popcorn.
Protein: Low fat yoghurt or smoothie, cottage cheese, ham, chicken, turkey or peanut butter and jam for sandwiches, cheese, mini meatballs or ham for mini kebabs.
Fruit & Vegetables: cherry tomatoes, bell peppers, pickles and cucumbers for mini kebabs, veggie sticks with dip, banana, grapes, apple and pineapple for fruit salad or fruit skewers,
Serving Sizes
Food Group
Serving Size
Examples
Carbohydrates
5-6 servings per day
30g cereal
1 slice bread
½ burger bun
1½ cups popcorn
½ cup cooked cereal, pasta or rice
about the size of a small fist
Vegetables
2-3 servings per day
1 cup raw leafy vegetables
½ cup vegetables
1 small baked potato (90g)
1 cup raw leafy veg is about the size of a tennis ball
½ cup veggies is about the size of a light bulb
Fruit
2-3 servings per day
1 medium apple, banana, orange, peach
½ grapefruit, mango or papaya
½ chopped, cooked or canned fruit
¾ cup fruit juice
¼ cup dried fruit
1 fruit is about the size of a tennis ball
Dairy
2-3 servings per day
1 cup milk or yoghurt
45g cheese (cheddar, mozzarella)
½ cup cottage cheese
1-2 cheese wedges
60g processed cheese
45g cheese is about the size of 3 dominoes
Protein
2-3 servings per day
60-90g cooked lean meat, chicken or fish
60-90g lean sliced beef, ham or turkey
1 medium pork chop
1 chicken breast
½ cup cooked beans, peas and lentils (equal to 30g meat)
1 egg (equal to 30g meat)
2 tablespoons peanut butter (equal to 30g meat)
⅓ cup nuts
90g meat, chicken or fish is about the size of a deck of cards or the palm of a woman's hand
2 tablespoons peanut butter is the size of a ping pong ball
Activity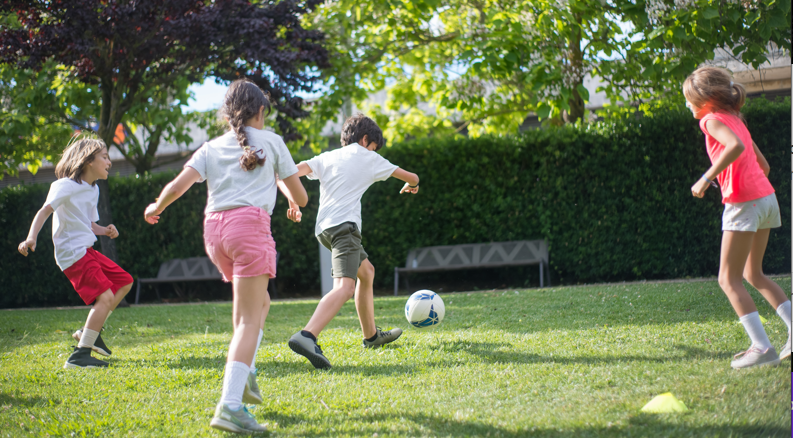 Not only is kids meal planning important but balancing this with a healthy, active lifestyle is crucial to overall health and development. With all the tempting electronic entertainment, motivating them to be active has become quite a challenge, but fortunately there are so many creative and fun ways to go about this. Every child is different, so finding something that they enjoy is key. A combination of structured play activities as well as free play, especially outdoors does wonders for their development.
Amount of Exercise
Experts recommend at least one hour of physical daily activity and lots of free play for younger children. Then, for older children, one and a half to two hours of physical activity a day is beneficial.
Some Ideas to Try:
Hide and seek (Hiding a toy/teddy instead of traditional hide and seek is what I did with my boys seeing that it's difficult to hide with my wheelchair)
Ball/Bean Bag/Balloon games (Anything with a score or points system my boys loved).
Piggy in the middle
Catchers
Hopscotch
Obstacle courses
Swimming
Tennis
Soccer
Basketball/Netball
Dodgeball (soft, plush ball)
I hope after reading this post you feel more inspired with meal planning for your kids. If you have any tips or suggestions, I would love to here them, so please do leave me some comments. You could also follow me on Instagram and share your ideas with me there. Looking forward to hearing from you all.
If you enjoyed these ideas be sure to check out my other recipes, I'll be adding lots more.
Happy meal planning.
Until next time
xxx