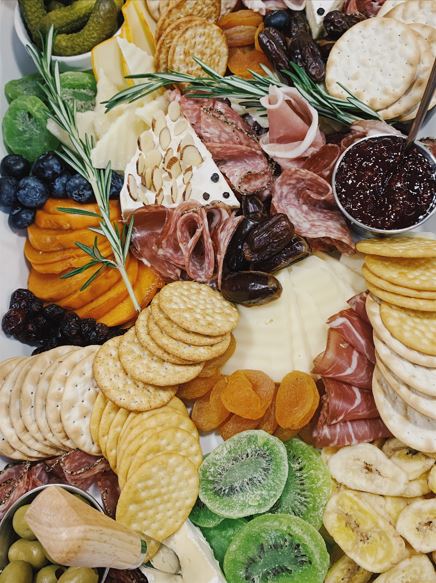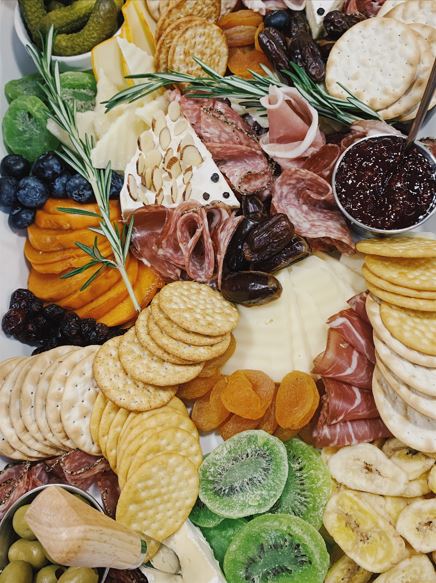 Charcuterie boards (or you can even turn it into a table to really impress) are always a hit for any party. There's always something on there to satisfy any ones cravings, and the best part is… It looks like you put in a ton of effort but you really didn't.
Honestly, the past few years have been a roller coaster for our family, and not in a good way. Although, one good thing that came from that I suppose is learning how to pull off great entertainment for friends and family with little time and hardly any planning.
I have always loved hosting parties and events, no matter how big or small, I usually end up putting in the same amount of effort. The only thing that changes with the amount of guests attending is the quantity of food I prepare.
The one thing that I have always wanted to accomplish is creating an amazing charcuterie board (or table if you want to go big!) So initially I started planning small but then as usual I think "just a little more" and "Ooooh, this will look cute" then a few more ideas follow and one thing leads to another, and before I knew it I had to ditch the board and just go for the table instead. Although I don't regret it, it was an epic charcuterie table and surprisingly not difficult at all!
5 Charcuterie board/table tips:
Inspire yourself: For me, this is always visual. I used to Google everything to get ideas but then came Pinterest and it was a game changer. There were just so many photos on there that caught my eye, I started pinning everything until I felt I had enough to work with. From there I picked my top 10 (or maybe 20 because I couldn't decide). This really helps me get an idea of the pairings of cheese, fruits, meats and nuts I'd like to use to fill up the space that I have to work with.
Once you have your ingredients in mind, make your shopping list, preferably broken down into categories. This should stop you from having to go through all the aisles and possibly coming home with more than what you budgeted for. Better yet, avoid the temptation and just place an online order for pick up (which some places offer free of charge) or delivery for added convenience. Ordering online allows you to really visualize the variety of items you'd like to serve to satisfy all the guests. Online you can easily see the selection of cheeses and cold meats the store has to offer.
Best idea yet… brown butcher paper. Cleanup will be a breeze because there's no need for all sorts of bowls or trays to display the food on. If it's really just close family and friends and you don't feel the need to extra impress, you don't even need to use plates. Your table will impress them enough, believe me.
Now for the work of art. Decide which table you're going to use, keep in mind the area where your guests will be spending most of their time (don't set it up in the kitchen if your planning on entertaining outside or in the lounge for example). Perhaps a portable table will come in handy incase you plan on doing outside and the weather takes an unexpected turn. Then it's time to measure, cut and tape down the brown wrapping on the table.
Now to style your table. I'd start with the bigger items that you'll need, like the cutting boards for meats and cheese. If you plan on adding some décor like a center piece or some candles for some cozier lighting you can add them now too. A center piece doesn't need to be over the top as the table is already a WOW so you can always use a wine bottle or two as your center piece. We're not a fan of alcohol so I always go the non-alcoholic route. If you'd like, you can place moist things like olives and pickles in bowls but its not necessary. Then you can arrange the meat, cheese and crackers on your table. Do this just before guests arrive so nothing dries out. Finish off with adding some fresh fruit and vegetables, dried fruit and nuts, individually wrapped chocolates, and dips or spreads. Also have enough mini forks or tongs around because we don't want everyone's hands touching everything now do we?
Please remember these are tips, NOT rules. That's what I love about charcuterie boards / tables. There are really no rules!!! Let your imagination run wild, get creative and applaud yourself for the masterpiece you create.
I promise the clean up will be super easy, no pots and pans or stacks of plates, just a big piece of paper to throw away. There's hardly ever much leftovers, but we never let it go to waste because we anyway snack on it the next day.
I trust you had fun reading this post and hopefully got loads of inspiration.
If you like my content please check back regularly and follow me on Instagram for updates.
Here's some other posts that you might like.
Till next time.