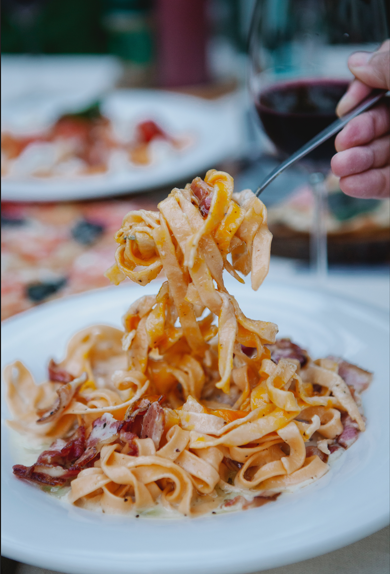 Creamy Bacon and Mushroom Pasta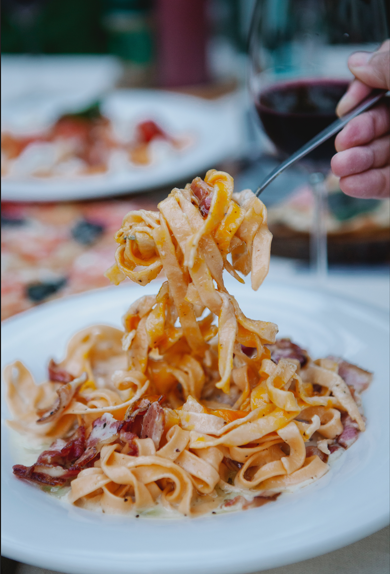 My creamy bacon and mushroom pasta dish is a regular on our menu. This recipe is a family favorite and it's the easiest anytime lunch or dinner, great to feed unexpected guests too. There's no complicated ingredients or procedures, it's all very straight forward.
Ingredients
1kg Minced Bacon
250g Sliced Mushrooms
1 Diced Onion
500g Pasta of your choice
1 Can Ideal/Carnation Milk or Cream
Corn Flour to thicken the sauce
Salt or Seasoning of your choice
Optional : Chives to garnish
Method
To start, sauté the diced onions in a little olive or coconut oil. Next you can add the minced bacon and fry until almost crispy. After that you an go ahead and add the sliced mushrooms, at this point I tend to need to add a little water so that the mushrooms can cook and the bacon doesn't burn onto the bottom of the pan.
When the mushrooms are nearly done you can add the cream or ideal milk and add some seasoning to taste. You won't need much seasoning as the bacon is already quite salty by itself. All that is needed now is a about a tablespoon of corn flour mixed in a little water, add this to the pan and stir often until the sauce has thickened to your preference.
To finish it off you can add some finely chopped chives for a bit of extra flavor as well as make it look more colorful. Finally add it to the cooked pasta and voila, you have the most delicious comfort food ever.
If you're not a fan of meat, feel free to leave out the bacon, its just as delicious. For a little something extra I love adding some chickpeas. I love the texture and flavor they add to the dish.
To check out some more of my favorite recipes click here.