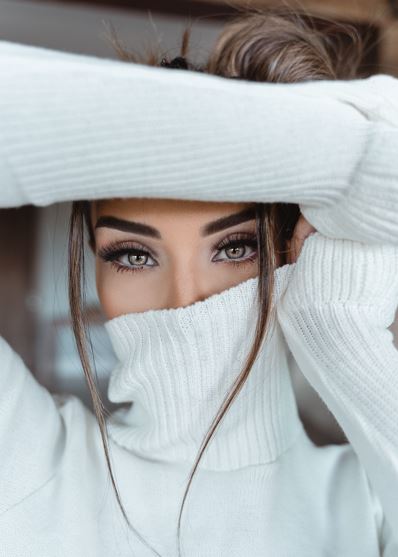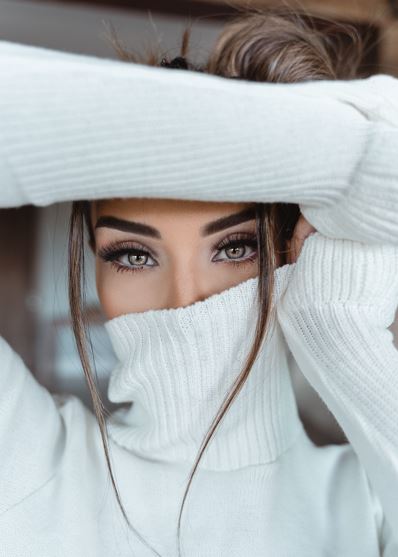 This post I wanted to make all about eyes, after all, eyes are the window to the soul. Although that's not the main reason I wanted to get into this topic. Eyes are one of the first places your skin starts to show aging. The skin around your eyes is quite thin and requires delicate care.
A lot can be seen about your health by just looking at your eyes. Your eyes show if you're dehydrated, sleep deprived, low on iron, the list really can go on and on. Although those issues are best discussed with your primary care doctor if you have any concerns.
I wanted to focus more on the outer appearance of our eyes in this post and how we can keep them naturally beautiful and youthful.
So, I've put together this list of all my favorite products that I feel have lived up to their promises.
1. Lash and Brow Growth Serum
This serum really works wonders. I love Mavala Double Lash. I even use it on my brows to give them a boost too. Who wouldn't want naturally long, thick and healthy lashes? This definitely helps them recover from wearing makeup daily. I promise you won't regret trying it out.
I've heard good things about the DIME lash serum too, so that is another option worth checking out.
2. Eye cream
Over the years I have tried so many, but I keep coming back to Clinique All About Eyes. No other eye cream comes close to the benefits of this one. I love the creamy consistency and satin finish it leaves. It's perfect for wearing under makeup. It helps keep your under-eye area from looking dehydrated and make-up actually stays in place.
3. LumiSpa Accent
I have had my ageLOC LumiSpa for years and couldn't wait to get the eye attachment. The LumiSpa Accent Head with its Silicone Tip allows you target hard-to-reach areas and gently exfoliate the delicate skin around your eyes. It is recommended to use their IdealEyes eye cream along with it. The IdealEyes eye cream also reduces the appearance of dark circles, undereye bags and puffiness while firming the skin and visibly lifting your upper eyelids.
4. Tweezers
Tweezers are another must have to keep your brows in shape. Eyebrows frame the face so always take care to follow your natural shape and don't over tweeze. Personally, I prefer the pointed tip tweezers over the slanted ones. It makes it easier to pluck out the hard-to-reach ones.
I also can't recommend micro-blading enough. It makes tweezing so much easier as your shape is already defined.
5. Mascara
Mascara just has the ability to make me look and feel so put together in less than a minute. Although you have to be picky about the right mascara as there are thousands to choose from. Lancôme Lash Idôle has to be my all-time favorite.
This mascara coats every single lash for an instant lift, length, and fully fanned out volume with no clumps. It has a lightweight gel formula that leaves them feathery soft with no flaking or smudging.
6. Eye makeup remover
I've come to realize that I have such a love-hate relationship with make-up… I love feeling put together although when it comes to taking it off at the end day, I wish I had no make-up on at all. This is why you can't go without a good make-up remover. The one that I swear by is Clinique Take The Day Off Cleansing Balm.
It's lightweight and quickly dissolves eye and face makeup. It transforms from a solid balm into a silky oil upon application. The balm cleans thoroughly, rinses off completely and gently helps remove the stress of pollution so skin looks youthful. This make-up remover is non-greasy and non-drying.
7. Lash curler
Lash curlers are great if you want to give your lashes a natural lift without using any mascara. Or you could use it before mascara for a more dramatic effect. I haven't really come across an amazing one, so I generally try look out for one that's decently made, using good quality materials. I also do opt for environmentally friendly suppliers and small businesses.
8. Eye vitamins
Taking vitamins in general is good for your health but as you become older you might want to consider more specialized options. We can't rely on the nutritional benefits of the food we consume these days, sometimes we need an extra boost.
Omega 3, Vitamin A, C, E and zinc make it to the top of the list for eye health. Although there are so many options to choose from its best to discuss it with a health care professional.
9. Sunglasses
Wearing sunglasses is probably the number one best thing you can do to protect your eyes. Make sure you choose a trustworthy brand that has UV protection. This will not only protect the skin around your eyes but the eye itself.
The sooner you start wearing sunglasses when you're out and about, the better. Because once the damage is done, there isn't much that can be done to reverse it. There are so many stylish options to choose from.
10. Blue light glasses
Blue light glasses are the last on my list of All About Eyes, but certainly not the least important. In recent years blue light has been receiving a lot of attention, causing quite a bit of concern. So why not get yourself a pair of blue light glasses to relieve some of the stress put on your eyes form screens.
There's a huge variety to choose from and they are very affordable. Sure, you can get some pricey ones but even our optometrist suggests just getting an inexpensive pair. Blue light glasses come in various strength too, so you can make your eyes as comfortable as they can be.
I've linked some items throughout this post for your convenience, but I've put them altogether for you down below.
I may earn a small commission, at no extra cost to you, should you purchase items through my links.
If you liked the post, please leave a comment, and I'd really appreciate you sharing this post with someone that will enjoy it too. I have some other posts that you might find interesting as well, you can find them here.
Remember you can stay in touch with me on Instagram, Pinterest and Facebook too.